Would you like to learn more about Ozaeros?
Key Points
Experienced tailwheel instructor ...
Only extremely experienced tailwheel instructors may operate Ozaeros' Super Decathlon.
Spinning & aerobatics ...
Ozaeros specialises in spin and aerobatic training.
Competition aerobatics ...
Ozaeros enjoys competition aerobatics and can help you with low level aerobatic endorsements.
Testimonials
I would love to get the endorsement and have heard fantastic things about you as an instructor.

From a potential customer by email
Thanks for the good points and the awesome flying yesterday. I can't wait for the next flight.

From a recent customer by email
A bit about Ozaeros instructor, David Pilkington ...
David has been a Grade 1 flight instructor for many years and generally works independently although does much work with a major flight school as subject matter expert for spinning, aerobatics and Upset Prevention and Recovery Training. He holds flight examiner privileges for instructor spin and aerobatic training endorsements. David specialises in training for tailwheel, spinning and aerobatics including low level competition aerobatics.NEWS: On 30/9/19 Australian Flying Magazine and the Australian Division of the Royal Aeronautical Society announced the recipients of the 2019 WINGS Awards. David Pilkington won the award for Flying Instructor of the Year - read more.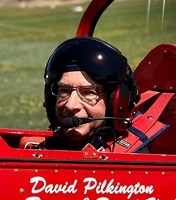 ABN 96 310 652 368
Copyright 2015-2016. Ozaeros. All Rights Reserved.
Avante FD
Copyright 20XX.Company Inc. All Rights Reserved.